We host workshops, share insight lectures and run change-making events.
Our workshop subjects include:
Building a purpose-driven brief
Collaboration & team building
How to develop a creative environmental or social impact project
Creating actions, impact and more.
Creative Impact Programme 2024: Apply now for our 3 month Creative IMPACT Programme for 2024 for Social + Environmental Change Makers starting in the Feb 2024.
Creative Change Makers Festival: 07-10.02.24 Live + Online
Upcoming Events + Courses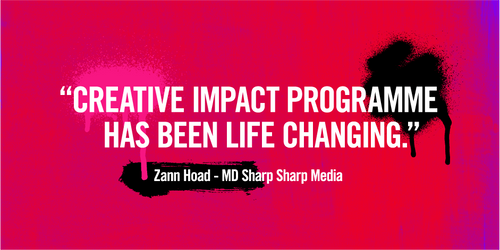 Creative IMPACT Programme 2024 (3 Months)
Friday, 02 February 2024
Join us for 15+ inspiring on-line modules for would be creative change-makers. Live coaching calls twice a month for 3 months.
You will tap into your creative super powers + can potentially build an IMPACT project to positively CHANGE our WORLD!
A course that has transformed many people's lives and had positive effects on mental well being. Build a community and network.
Past Events
Previous events have included:

Design Change Makers: Mental Health

Design Change Makers: Conscience Consumption.
In February 2020 we launched an International Creative Change Makers Conference, hosted live in London, with some of our amazing partners and keynote speakers including Sir Jonathon Porritt and other creative leaders.
We've moved this online for February 2021.
Join the community

if you are...